Hi! I'm trying something new – on Sunday, March 6 I'll be doing a virtual launch party. March 8 is an amazing day for historical fiction – it's the release day for A TYRANNY OF PETTICOATS and for Meg Medina's BURN BABY BURN, Cat Winters' THE STEEP & THORNY WAY, and Sharon Biggs Waller's THE FORBIDDEN ORCHID. To celebrate, the four of us will be doing a Google Hangout where we'll be chatting about our books and answering questions live. If you submit questions for us to answer before the event with the #BadassHistory hashtag on Twitter, you'll be entered to win one of 2 prize backs containing all 4 books. And if you can't make the live Hangout, you can always watch it later.
In other fun news, TYRANNY is on this list of Epic Reads' 17 Most Anticipated YA Books to Read in March. Thanks, Epic Reads! We're in some amazing company; there are so many great books coming out in March! I'm especially looking forward to April Genevieve Tucholke's WINK POPPY MIDNIGHT, Marie Rutkowski's THE WINNER'S KISS, and E.K. Johnston's EXIT, PURSUED BY A BEAR. What about you? What books are you most looking forward to?
TYRANNY also got two more great reviews:
One of School Library Journal's teen reviewers says: This is a good quality short story collection that would appeal to anyone interested in feminism and American History. (Angela K., 17)
And the Bulletin of the Center for Children's Books says that TYRANNY "moves skillfully between humor and thoughtfulness as it traverses the many paths taken by women throughout American history." I love that!
I can't believe it's only two weeks till release – March 8! Eep! I got my finished author copies this week and they are GORGEOUS. My husband built me a TYRANNY tower!
And I am very very enamored with the spine design, both jacket and unjacketed!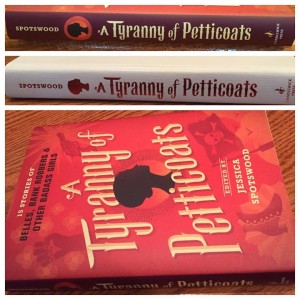 I can't wait to share it with readers & hear which stories are your favorites!